Traveling is fun. Few people would come across who harbors a genuine dislike for traveling. Traveling is a luxury that we slog after for the rest of us. Think back. So much of childhood was spent planning all the grandiose trips you would take with your friends. Adolescence was spent dreaming about sprawling countrysides and bustling cities, depending on your taste, where you would ultimately settle down, and the picture-perfect destinations you wish to visit with your future partner. And finally, adulthood had us scrambling for savings to get that much-needed vacation, a pale contrast to what we had dreamt up as a child, but traveling nonetheless puts a smile on our faces. Now, hear this, a professional traveler.
But imagine doing that for a career. Where your entire life revolves around traveling. Climbing mountaintops, dipping your feet into cool blue waters, discovering hidden gems, observing timeless monuments, walking the quaint streets of someplace you can't even hope to pronounce, looking at something new every day? Doesn't that sound perfect? Is it not what your wanderlust soul has been begging you to satisfy ever since you turned fourteen? What is this dream job called? How do you get it? How do you clasp it tight? Fear not, because we'll guide you through your way to becoming a professional traveler.
Did you watch documentaries of people traveling and retelling their adventures on camera, people whose jobs seem to entail traveling to exotic places one after the other and uploading pictures, videos, and entries of them? And did you wonder how to become a pro traveler? We'll give you some hints.
Write Travelogues or Becoming a Travel Writer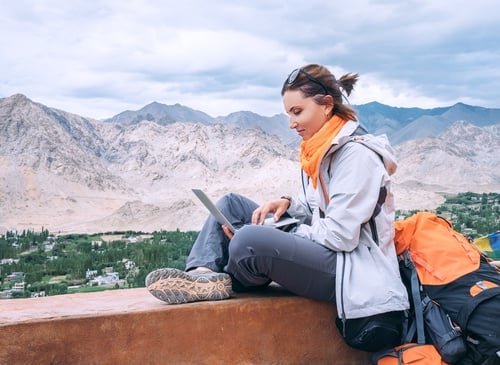 Of course, this will be at the top of my list. I am writing an article after all. And it just sounds like getting the cake, eating it, and having it, all simultaneously. Becoming a travelogue writer is surprisingly one of the easier ways to get paid for professional traveling. You get the money and the travel; they get the content. It is a perfect example of a win-win situation.
And it is just that you travel and write about it. The rustic streets in Italy, the cafes you found tucked away in the outskirts of Paris, the glistening sun seen from across the horizon, how the Alaskan landscape looks, are the Australian corals worth all the hype, did Shah Jahan love Mumtaz or the prospect of Taj Mahal, just kidding. You see these places, feast on your eyes and soul, and let the words flow. Make the others look at it from the point of view.
Travel writing follows different styles and doesn't necessarily have to contain every aspect of the journey; it could also be a must-see list of to-do things, spots you can't miss, what you need to pack when visiting this particular destination, the restaurants you cannot leave without visiting, history of the place, the culture, people, anything.
Travel Photographer
Of course. Come on. Becoming a travel photographer is an obvious choice in becoming a professional traveler. You better dust off that camera you got during college in a sudden burst of passion to a travel professional. And if you can rekindle that flame appropriately, then voila, you have got yourself a soundproof way of becoming a pro traveler.
Travel photography cannot even be considered a career; it is an art. Sling your camera across your front, grab sunscreen or a coat, and you're good to go. Ahem, it would be best if you also had the skills and the right sponsors. But if you've got the hands and the lens for it, the rest should automatically fall in place.
Patience, a little luck, and a unique, bold, and fearless approach should pave the way to do what you love. We wish you all the luck in this endeavor.
Becoming Traveling Medical Professionals 
Love traveling? Also, got a bit of a corporate streak in you? Then this choice must be perfect for you. Traveling medical professionals include several healthcare fields such as nurses, doctors, technicians, physicians, sonographers, surgical assistants, etc. It is a trusted method that will get you abroad much more securely. Medical professionals are always in demand, regardless of the place and economy. Therefore, if your career is even vaguely related to the medicinal field, there is a huge chance you can develop on it and travel. It is also quite common to transfer medical professionals. This varies according to the needs.
The precise term is Locum doctors. These refer to traveling doctors. These doctors are seen accepting placements in different parts of the country. And, by extension, the world. And there you have it, a chance to experience new places while working in local hospitals or clinics.
Professional Travel Advisor or Professional Travel Planner
This is another popular job sought by those who wish to travel for a living. As a professional travel advisor, you are expected to help people traveling on their journey. This profession essentially takes the role of a travel consultant or professional travel planner whose got the connections, resources, and most importantly, the expertise to guide people into their pathways. They make full-fledged itineraries and travel plans and put together the whole trip.
This is a fun job where you curate vacations and trips to places and people. You could be working as a Disney travel professional; imagine that.
And there you have it, the ways to become young travel professionals. Our professional travel center jobs you can pick from. And this is a life you would not regret at all. Good luck!